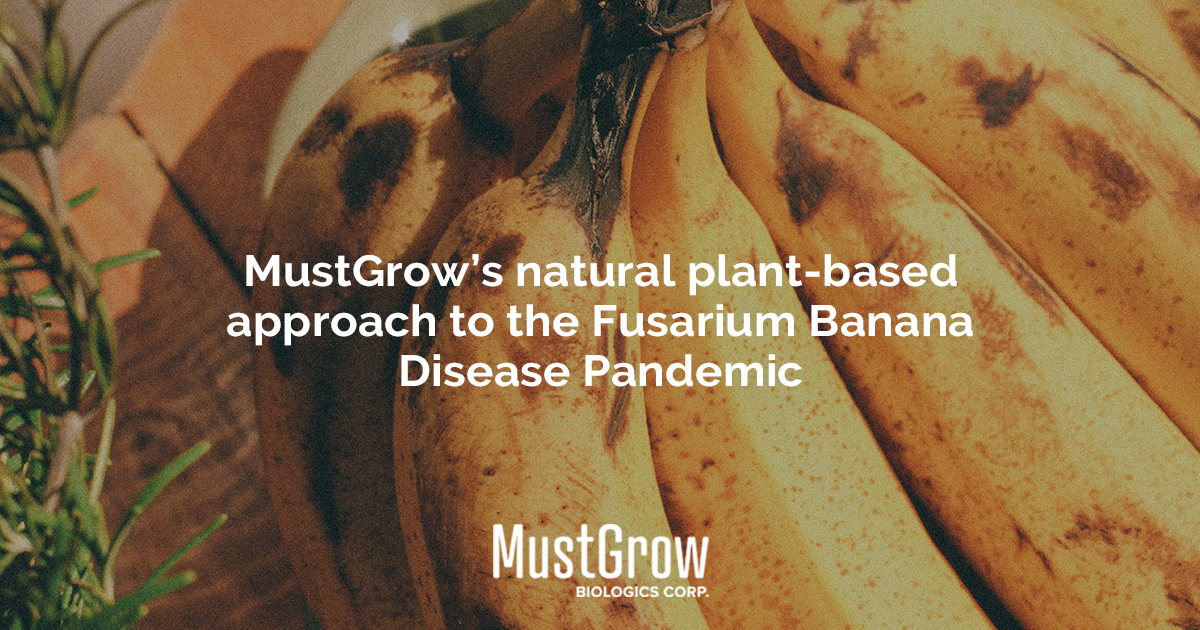 GOING BANANAS!! – ARE BANANAS DOOMED?
MustGrow's natural plant-based approach to the Fusarium Banana Disease Pandemic
Is your favourite fruit about to go extinct?  The deadly disease pathogen Fusarium wilt TR4 (previously referred to as Panama Disease) has been wreaking havoc and ravaging the $25 billion global banana industry – with infected plantations experiencing 100% loss and being quarantined for decades.  Colombia has already declared a National State of Emergency, but it may be too late.  A flurry of apocalyptic media accounts have followed, revealing a race to save bananas from extinction after the disease has left a trail of scorched banana plantations in its wake.
The world's most destructive banana disease is spreading, and there are currently no chemicals available to kill the disease. 
This isn't just a problem localized in Colombia.  As highlighted just last week, the Ecuadorian Government has raised the banana disease Fusarium wilt TR4 to pandemic level.  "Ecuador's message to the global banana community is clear: Fusarium is not just a pest; it is a lethal pandemic for bananas that currently has no solution and that threatens one of the most important industries for the Ecuadorian economy."
The good news is we're working towards a natural organic solution, simply utilizing the natural defense mechanism of the mustard seed as a biopesticide to control Fusarium wilt TR4 in the soil.  Sound like science-fiction?  We've already done it…  earlier this year reporting 100% control (100% kill) at economic product application rates in laboratory settings.  Now, MustGrow's highly-anticipated field studies are in progress with results to follow shortly.
And some of the largest produce and chemical companies in the world have taken notice.  We just recently announced that Sumitomo Corporation (TYO: 8053) (OTC: SSUMY), Japanese global trading behemoth and a leading fruit distributor in Asia, signed an Exclusive Option Agreement to evaluate our technology to determine its commercial potential, including Fusarium wilt TR4 in South America and disease protection during shipping of bananas and other produce.  In 2016, Sumitomo Corporation acquired Fyffes for €751 million, best known for its banana business and also one of the world's largest fresh produce distributors. Now utilizing MustGrow's plant-based crop protection technology, Sumitomo Corporation will fund and drive all field development and regulatory work necessary for commercialization of our mustard-derived products.
Sceptical??… I have linked several frightening stories and videos from leading sources:
Thank you for following our progress.  We look forward to sharing our field trial program updates in the near future.
Sincerely,
Colin & MustGrow team
Colin Bletsky is COO of MustGrow Biologics Corp.