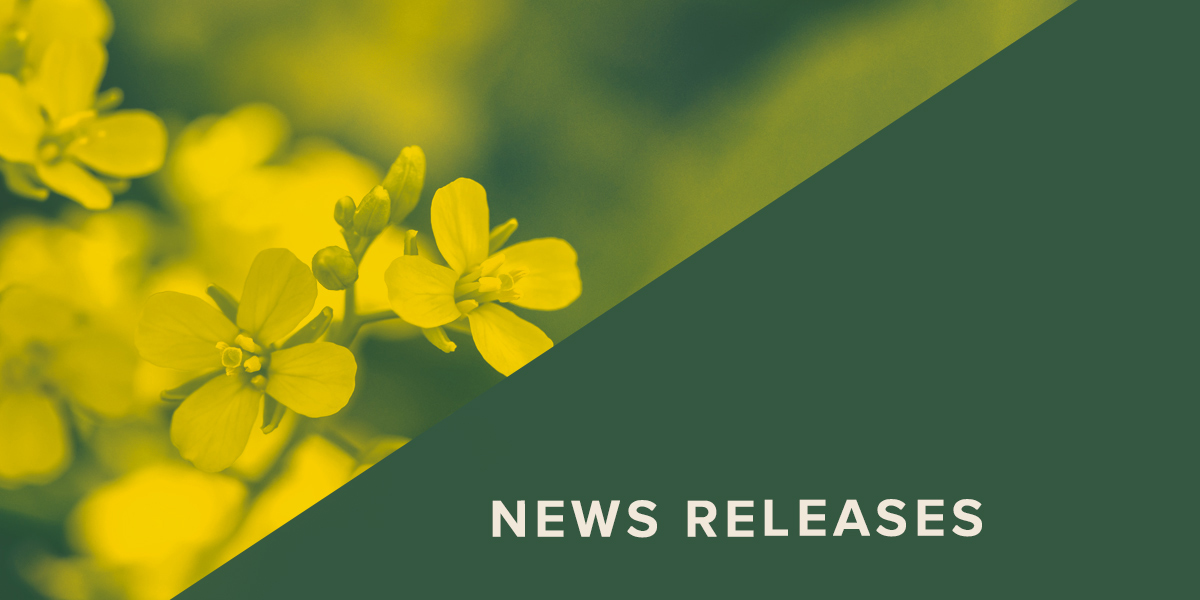 MustGrow and Janssen PMP, a division of Janssen Pharmaceutica NV, Announce Significant Project Expansion
Exclusive agreement with Janssen PMP to now include postharvest potatoes and bananas globally, a significant strengthening of existing partnership.
Janssen PMP postharvest research, development, and commercialization capabilities have driven expansion.
Janssen PMP will continue to fund and complete all application testing and development work.
SASKATOON, Saskatchewan, Canada, Sep. 6, 2023 – MustGrow Biologics Corp. (TSXV: MGRO) (OTC: MGROF) (FRA: 0C0) (the "Company" or "MustGrow"), and Janssen PMP, a division of Janssen Pharmaceutica NV, one of the Janssen Pharmaceutical Companies of Johnson & Johnson (NYSE: JNJ) ("Janssen PMP") are pleased to announce a significant expansion to their existing Exclusive Evaluation and Option Agreement (the "Agreement") to test and develop MustGrow's biological mustard plant-based technologies for certain postharvest food preservation storage applications globally. The Agreement will now also include postharvest potatoes and bananas globally.
Under the Agreement, the initial evaluation work excluded postharvest potatoes and bananas. However, with 15 months of postharvest evaluation work completed utilizing MustGrow's technology, Janssen PMP and MustGrow have produced very encouraging and efficacious results, supporting the decision to add postharvest potatoes and bananas to Janssen PMP's exclusive evaluation work.
"The postharvest banana market is one of our historical markets where the need for natural fungicides is growing. Also, developing a natural technology acting as an anti-sprouting and as a fungicide for stored potatoes is a major opportunity for Janssen PMP and for the industry." says Geoffroy de Chabot-Tramecourt, Director R&D and Business Development at Janssen PMP.
"Food storage and preservation continues to be a critical global issue. Our current partnership with Janssen PMP on the postharvest food preservation side has produced positive results with our natural technology that continues to open up new market areas and opportunities", adds MustGrow COO Colin Bletsky. "Janssen PMP brings more than 50 years of relevant postharvest development and market experience, and it is expected that adding these two key storage applications will help accelerate the commercialization pathway by levering the knowledge generated from testing other fruits and vegetables as well."
Janssen PMP is a world leader in postharvest product development and has proven aptitude in pace of work, knowledge, and market scope. This additional postharvest market area to Janssen PMP is expected to accelerate MustGrow's development timeline, levering the current project work and technical/marketing expertise of Janssen PMP's postharvest professionals.
Janssen PMP will continue to fund and drive all application testing and development work.
Postharvest Protection for Global Food Security
Potatoes, the world's fourth most important food crop in terms of human consumption after maize, wheat and rice,(1) is a US$4 billion industry in the US, with as much as 33% of yield lost per year due to postharvest issues – approximately US$1.3 billion in lost revenue.(2) The Food and Agriculture Organization (FAO) has strongly endorsed potatoes as a food security crop. Potatoes require up to nine months of storage and become waste without proper sprout suppression management, making postharvest sprout suppression a key element of potato storage.
The environment within storage and during particular stages of storage are most conducive to the spread of diseases. Controlling diseases in storage is difficult since the majority of chemical treatments have been either banned or are ineffective. For example, the leading agrochemical product for sprout suppression, CIPC, was banned by the European Union on Oct. 8, 2020. For over 60 years, CIPC had long been the major global sprout suppressant, widely applied to stored potatoes. With this ban in effect, potato growers must now refrigerate produce, with the additional capital expenditure and refrigeration energy consumption making this temporary approach unsustainable. Although the ban was anticipated, no effective treatment alternatives have emerged – creating a major problem for existing potato storage sites.
Fruit and vegetable crops play a critical role in global food nutrition. More than one-third of produce (worth approximately US$1 trillion in value) is lost or wasted in postharvest operations,(3) which includes loss attributed to fungal and bacterial diseases. Fresh vegetables are highly perishable living tissues that are particularly susceptible. Postharvest fungal and bacterial diseases can cause annual vegetable crop losses of 40–60%.(4) Reducing postharvest losses could increase food availability, reducing pressure on the mounting food supply shortage and global inflationary pressures with respect to food prices. In addition, food production could be more environmentally sustainable with less waste.
Sources:
(1) https://www.intechopen.com/chapters/78618
(2) https://vegetablegrowersnews.com/news/help-to-reduce-huge-losses-in-potato-industry-seen-in-biochemistry/
(3) https://www.ncbi.nlm.nih.gov/pmc/articles/PMC5296677/
(4) https://www.intechopen.com/online-first/79995
About JANSSEN PMP
Janssen PMP (https://www.janssenpmp.com/) is a division of Janssen Pharmaceutica NV, one of the Janssen Pharmaceutical Companies of Johnson & Johnson. The Janssen Pharmaceutical Companies of Johnson & Johnson are dedicated to addressing and solving some of the most important unmet medical needs of our time in oncology, immunology, neuroscience, infectious diseases and vaccines, and cardiovascular and metabolic diseases.
Janssen PMP is a long-established world leader in the development and formulation of new and highly effective active substances and end-use products for the protection of materials and food, especially fruits and vegetables. With more than 50 years' experience in Post-Harvest treatments and Plant Protection, Janssen PMP has developed strong technical and commercial expertise. Through protection of our surroundings, we aim to protect the health and well-being of the people in the environment in which our products are being used.
ON BEHALF OF JANSSEN PMP
Geoffroy de Chabot-Tramecourt
Director R&D and Business Development
Turnhoutseweg 30, 2340 Beerse, Belgium
Tel: +32 14 60 28 57
Mobile: +32 471 80 82 09
Email: gdchabot@its.jnj.com
———
About MustGrow
MustGrow is an agriculture biotech company developing organic biocontrol, soil amendment and biofertility products by harnessing the natural defense mechanism and organic materials of the mustard plant to sustainably protect the global food supply and help farmers feed the world. MustGrow and its leading global partners — Janssen PMP (pharmaceutical division of Johnson & Johnson), Bayer, Sumitomo Corporation, and Univar Solutions' NexusBioAg — are developing mustard-based organic solutions to potentially replace harmful synthetic chemicals. Concurrently, with new formulations derived from food-grade mustard, the Company is pursuing the adoption and use of its technology in the soil amendment and biofertility markets. Over 150 independent tests have been completed, validating MustGrow's safe and effective approach to crop and food protection and yield enhancements. Pending regulatory approval, MustGrow's patented liquid products could be applied through injection, standard drip or spray equipment, improving functionality and performance features. Now a platform technology, MustGrow and its global partners are pursuing applications in several different industries from preplant soil treatment and weed control, to postharvest disease control and food preservation, to soil amendment and biofertility. MustGrow has approximately 49.7 million basic common shares issued and outstanding and 55.6 million shares fully diluted. For further details, please visit www.mustgrow.ca.
Contact Information
Corey Giasson
Director & CEO
Phone: +1-306-668-2652
info@mustgrow.ca
MustGrow Forward-Looking Statements
Certain statements included in this news release constitute "forward-looking statements" which involve known and unknown risks, uncertainties and other factors that may affect the results, performance or achievements of MustGrow.
Generally, forward-looking information can be identified by the use of forward-looking terminology such as "plans", "expects", "is expected", "budget", "estimates", "intends", "anticipates" or "does not anticipate", or "believes", or variations of such words and phrases or statements that certain actions, events or results "may", "could", "would", "might", "occur" or "be achieved". Examples of forward-looking statements in this news release include, among others, statements MustGrow makes regarding: (i) the timing and results of any evaluation work on postharvest potatoes and bananas by Janssen PMP; (ii) the potential acceleration of MustGrow's development timeline by transferring the additional postharvest market area to Janssen PMP; (iii) the potential of MustGrow technology to extend shelf life of fruits and vegetables; (iv) the ability of the Company's technology as a postharvest treatment to help secure a safe, environmentally sustainable food supply, with less waste; and (v) the ability to increase food availability and reduce pressure on the food supply shortage and global inflationary pressures with respect to food prices, by reducing postharvest losses.
Forward-looking statements are subject to a number of risks and uncertainties that may cause the actual results of MustGrow to differ materially from those discussed in such forward-looking statements, and even if such actual results are realized or substantially realized, there can be no assurance that they will have the expected consequences to, or effects on, MustGrow. Important factors that could cause MustGrow's actual results and financial condition to differ materially from those indicated in the forward-looking statements include, among others, the following: (i) the preferences and choices of agricultural regulators with respect to product approval timelines; (ii) the ability of MustGrow's partners to meet obligations under their respective agreements; and (iii) other risks described in more detail in MustGrow's Annual Information Form for the year ended December 31, 2021 and other continuous disclosure documents filed by MustGrow with the applicable securities regulatory authorities which are available at www.sedar.com. Readers are referred to such documents for more detailed information about MustGrow, which is subject to the qualifications, assumptions and notes set forth therein.
This release does not constitute an offer for sale of, nor a solicitation for offers to buy, any securities in the United States.
Neither the TSXV, nor their Regulation Services Provider (as that term is defined in the policies of the TSXV), nor the OTC Markets has approved the contents of this release or accepts responsibility for the adequacy or accuracy of this release.
© 2023 MustGrow Biologics Corp. All rights reserved.