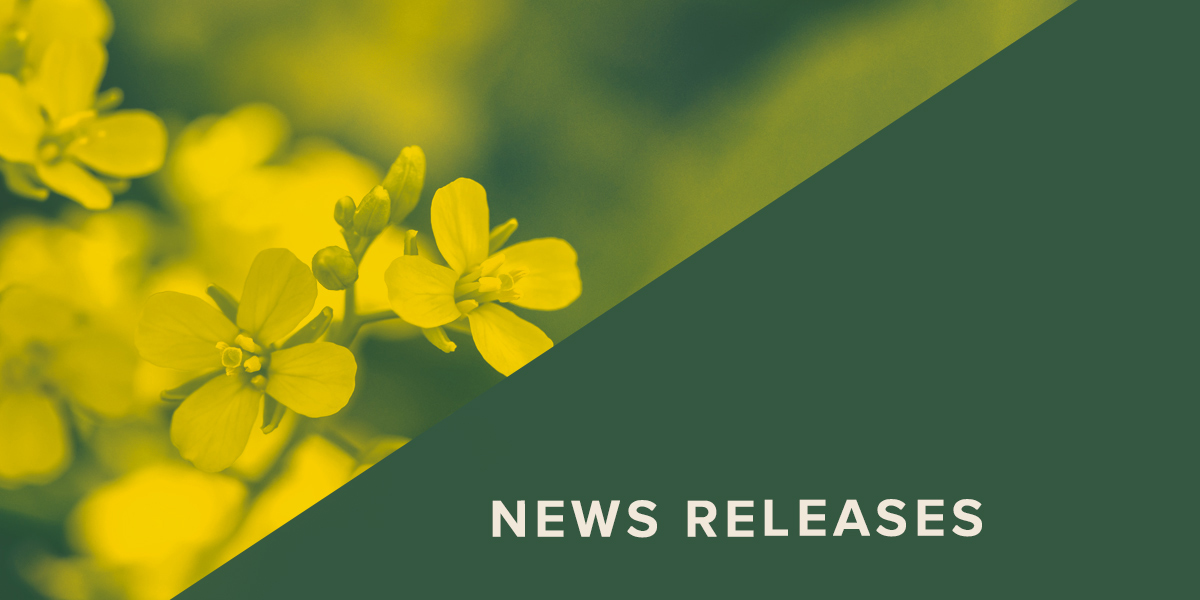 MustGrow Investor Webcast: Wednesday, April 26th at 4:00pm ET
SASKATOON, Saskatchewan, Canada, Apr. 24, 2023 – MustGrow Biologics Corp. (TSXV: MGRO) (OTC: MGROF) (FRA: 0C0) (the "Company" or "MustGrow"), announces that it will be hosting an investor webcast on Wednesday, April 26th at 4:00pm ET. MustGrow's management team will be presenting on recent corporate progress, biological industry developments, and upcoming catalysts. The presentation will be followed by an audience Q&A session.
Live Webcast: Wednesday, April 26th at 4:00pm ET / 1:00pm PT
Register/View Here
Please join/register at least 5 minutes prior to the call.
Before April 26th, please email questions to info@mustgrow.ca to be addressed during the Q&A portion of the webcast.
Sustainbile Food Security
One significant industry catalyst to be discussed during the webcast is the demand for safe and sustainable food security solutions. The interest in natural crop protection, food preservation, and fertility products is increasing as farmers, consumers, regulators, and investors seek organic alternatives to synthetic chemicals and fertilizers.  Safe and effective solutions will be needed for future food security and environmentally sustainable agriculture.
Throughout 2022, MustGrow engaged in extensive market research, formulation activities, and prospective partnership discussions, and has added Soil Amendment and Biofertility programs to its growing global intellectual property portfolio which now covers: Biocontrol applications (including preplant soil fumigation, postharvest food preservation, bioherbicide), and now Soil Amendment and Biofertility applications.
MustGrow believes its Soil Amendment and Biofertility initiative will complement existing Biocontrol programs, which are currently under development with four global partners: Janssen PMP, Bayer, Sumitomo Corporation, and NexusBioAg.  These four partnered programs continue to achieve performance milestones and expand globally in scope and investment. MustGrow believes 2023 will be a pivotal year for commercial and strategic advancement in certain regions and crops.
———
About MustGrow
MustGrow is an agriculture biotech company developing organic biocontrol, soil amendment and biofertility products by harnessing the natural defense mechanism and organic materials of the mustard plant to sustainably protect the global food supply and help farmers feed the world.  MustGrow and its leading global partners — Janssen PMP (pharmaceutical division of Johnson & Johnson), Bayer, Sumitomo Corporation, and Univar Solutions' NexusBioAg — are developing mustard-based organic solutions to potentially replace harmful synthetic chemicals.  Concurrenly, with new formulations derived from food-grade mustard, the Compmany is pursusing the adoption and use of it's technology in the soil amendment and biofertily markets.  Over 150 independent tests have been completed, validating MustGrow's safe and effective approach to crop and food protection and yield enhancements.  Pending regulatory approval, MustGrow's patented liquid products could be applied through injection, standard drip or spray equipment, improving functionality and performance features.  Now a platform technology, MustGrow and its global partners are pursuing applications in several different industries from preplant soil treatment and weed control, to postharvest disease control and food preservation, to soil amendment and biofertility.  MustGrow has approximately 49.7 million basic common shares issued and outstanding and 55.6 million shares fully diluted.  For further details, please visit www.mustgrow.ca.
ON BEHALF OF THE BOARD
"Corey Giasson"
Director & CEO
Phone: +1-306-668-2652
info@mustgrow.ca
MustGrow Forward-Looking Statements
Certain statements included in this news release constitute "forward-looking statements" which involve known and unknown risks, uncertainties and other factors that may affect the results, performance or achievements of MustGrow.
Generally, forward-looking information can be identified by the use of forward-looking terminology such as "plans", "expects", "is expected", "budget", "estimates", "intends", "anticipates" or "does not anticipate", or "believes", or variations of such words and phrases or statements that certain actions, events or results "may", "could", "would", "might", "occur" or "be achieved".  Examples of forward-looking statements in this news release include, among others, statements MustGrow makes regarding: (i) the investor webcast to be held on April 26th 2023; (ii) the ability of MustGrow's Soil Amendment and Biofertility initiative to complement existing Biocontrol programs currently under development; and (iii) the anticipated commercial and strategic advancement of MustGrow in certain regions and crops in 2023.
Forward-looking statements are subject to a number of risks and uncertainties that may cause the actual results of MustGrow to differ materially from those discussed in such forward-looking statements, and even if such actual results are realized or substantially realized, there can be no assurance that they will have the expected consequences to, or effects on, MustGrow.  Important factors that could cause MustGrow's actual results and financial condition to differ materially from those indicated in the forward-looking statements include, among others, the following: (i) the preferences and choices of agricultural regulators with respect to product approval timelines; (ii) the ability of MustGrow's partners to meet obligations under their respective agreements; and (iii) other risks described in more detail in MustGrow's Annual Information Form for the year ended December 31, 2021 and other continuous disclosure documents filed by MustGrow with the applicable securities regulatory authorities which are available at www.sedar.com.  Readers are referred to such documents for more detailed information about MustGrow, which is subject to the qualifications, assumptions and notes set forth therein.
This release does not constitute an offer for sale of, nor a solicitation for offers to buy, any securities in the United States.
Neither the TSXV, nor their Regulation Services Provider (as that term is defined in the policies of the TSXV), nor the OTC Markets has approved the contents of this release or accepts responsibility for the adequacy or accuracy of this release.
© 2023 MustGrow Biologics Corp. All rights reserved.