Preplant Soil Biofumigant
What is Preplant Soil Biofumigant?
MustGrow's remarkably safe and effective natural technology is plant-based – harnessing the mustard seed's natural defense mechanism to control diseases, insect pests, and weeds.  The technology can be used as a preplant soil biofumigant, meaning application to the soil occurs before crops are planted to treat soil borne diseases and insect pests.  
Application of this mustard-derived preplant soil biofumigant provides a potential alternative to using harmful synthetic chemicals that are being banned or deregistered.  MustGrow's preplant soil biofumigant has shown not only to have similar efficacy to that of synthetic chemicals at controlling soil borne disease and insect pests, but also to have a positive impact on the soil microbiome and environment.
MustGrow's preplant soil biofumigant for fruit & vegetables (

TerraMG

) has potential to compete not only on efficacy, but also on price versus synthetic chemistries.

Low application rates of 2.5 – 40.0 gallons per acre (23.4 – 374.20 liters per hectare).

Confirmation of high throughput toll-manufacturing production methods and cost models for early stage production and no capital costs.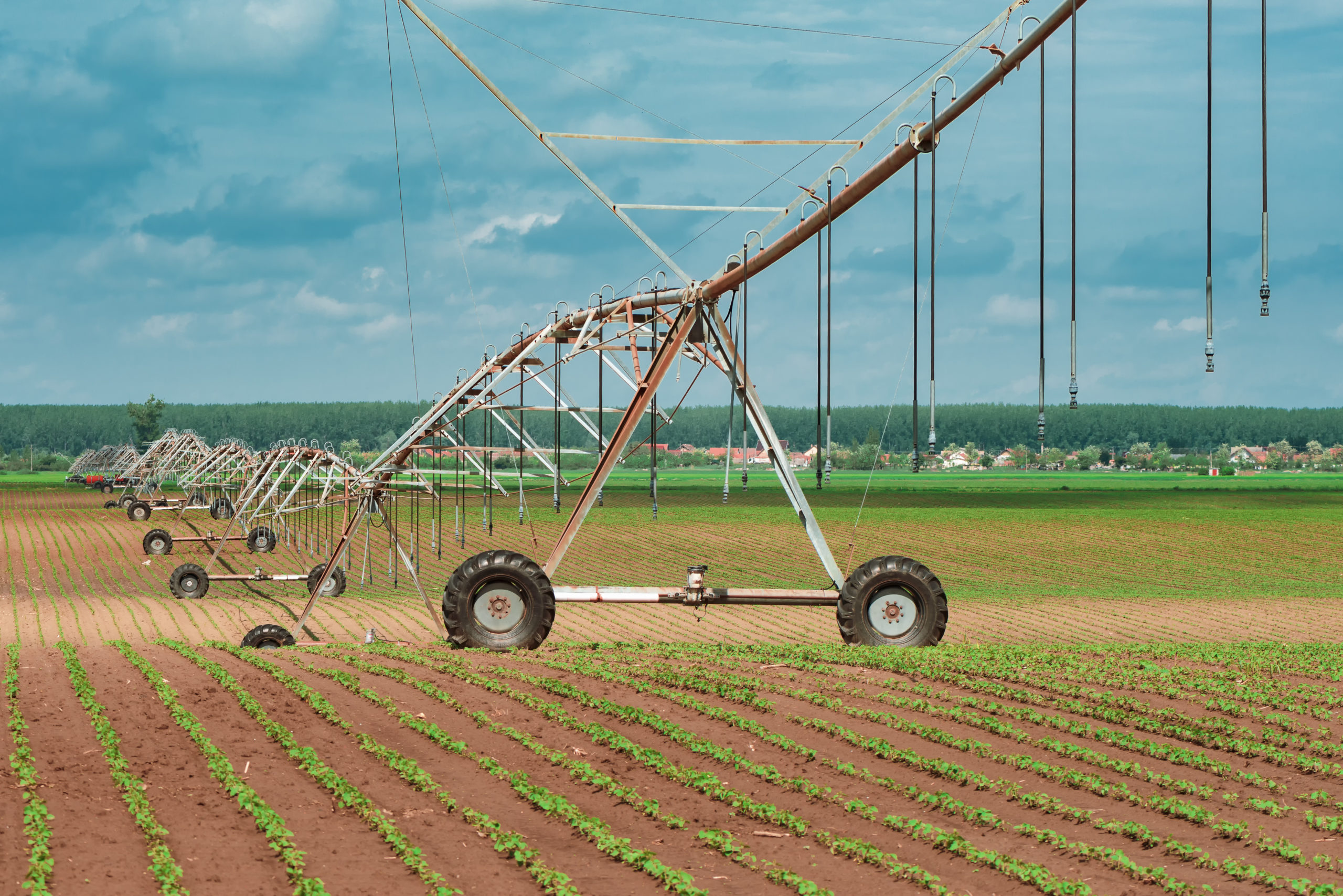 The initial target market for MustGrow's TerraMG, which is a preplant soil biogumigant for high value fruit and vegetable crops (generic term for the specialty crop market, which includes fruit & vegetables, turf & ornamental, tree nut and vine, etc.).  In fact, the Company's initial granular-format technology has a registration in this market segment. 
The crops and the targeted pests and diseases on this label can be seen below.  Some of the major synthetic chemicals currently used in this market have been banned (methyl bromide) and/or are being phased out.
Approximately 80% of the acres fumigated in this segment are in vegetables and strawberries.  The synthetic chemicals used in this market segment are applied by an applicator due to their dangerous nature. 
One of the benefits of MustGrow's technology is its non-hazardous handling, and as such, an applicator may not be required to apply, which would save money for growers.       
Crops
Fruiting vegetables
Grapes
Cranberries and blueberries
Root and tuber vegetables
Tree fruit & nuts
Leafy greens and cucurbit
Bulb vegetables
Asparagus
Tobacco
Cereal grains
Oilseeds
Legume and brassica
Herbs and spices
Hemp
Turf and ornamental
Pest & Diseases
Demonstrated control across wide range of pests & diseases:
Fusarium
Botrytis
Verticillium
Rhizoctonia
Pythium
Phytophthora
Sclerotinia
Nematodes
Chemical Standards
Methyl Bromide
Metam Sodium/Potassium
Chloropicrin
Dazomet
1,3-Dichloropropene (Telone)
Dimethyl Disulfide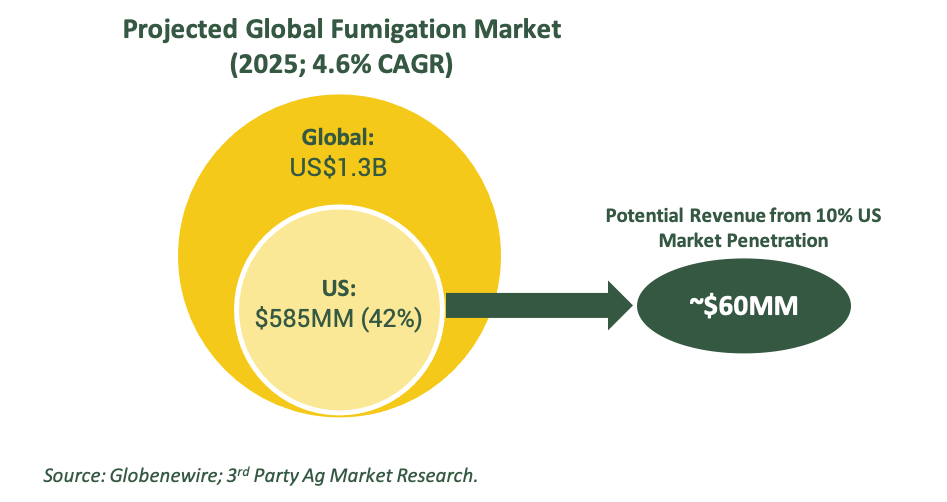 Key De-Risking Catalysts
Validate spectrum of efficacy and control in field trials with potential partners.
EPA toxicity waivers grant.
Continued aggressive patent filings.
Stability, compatibility, shelf life alone and in combination with synthetic.
Source: Globenewire. 3rd Party Ag Market Research.
Bananas are among the most important food crops on the plant.  They are the leading crop produced and traded at an estimate of around US$20 to $25 billion retail value per year (Source: IISD – International Institute for Sustainable Development, 2020). There is currently a soil borne disease affecting bananas that currently has no solution and that's why MustGrow is testing its technology to potentially provide a solution to save this very popular fruit.   
Fusarium wilt TR4 (referred to as Panama Disease) is the world's most destructive banana disease, affecting particularly our favorite yellow Cavendish bananas, which comprise most of global banana production are at risk of extinction.  Currently, there are no effective treatments for infected banana plantations, with the disease remaining viable in soil for decades and can cause 100% yield loss.  
MustGrow has completed laboratory tests in Colombia, confirming 100% control (kill) of Fusarium wilt TR4, including at economic rates.  MustGrow expects to commence field trials in Colombia spring 2021, and with positive results in the field, will be seeking regulatory approval.
Fusarium wilt TR4
MustGrow's preplant soil biofumigant for banana's may have control of TR4 in Bananas, no other commercially viable options to date.
Confirming rates of control in lab testing, currently ongoing in Colombia.
Results of Lab work expected Mid November 2020.
MARKET
Current region scope of disease is Asia/Pacific, Sub-Saharan Africa, and Latin America/Caribbean, currently in 27 countries and expanding.

Spread expected to reach 17% of global banana production by 2040, resulting in an additional US$10 billion crop loss (currently US$18 billion).

Projected loss of ~1.7 million hectares of banana plantations.
Globally there is a potential for over 850,000 jobs lost to this disease, this does not include the economic loss for countries in lost export and tax opportunity.
Just like in Bananas, there are two other crops grown right here in western Canada that have devastating soil borne diseases with currently no solutions.  Canola and pulses are two of western Canada's top cash crops, currently being plagued by clubroot and aphanomyces — two soil borne diseases that affect these crops, respectively. 
Clubroot is a soil-borne disease caused by a fungus called Plasmodiophora brassicae. Swellings or galls form on the roots of canola plants, which may ultimately cause premature death of the plant.  Clubroot is destroying canola, one of Canada's more profitable crops with over 20 million acres grown annually.  Industry experts conservatively estimate that C$500 million in annual canola crop losses in Canada caused by Clubroot.  Once a field is infested, there are no economical control measures currently available that can eradicate Clubroot, with some field infections leading to 100% crop loss. MustGrow has confirmed effectiveness in both laboratory and greenhouse settings, including 96.1% disease control at 0.5 gallons per acre application rate and is currently advancing to larger scale field trials.
Clubroot Control
 MustGrow's preplant soil biofumigant has shown control of Clubroot in Canola, which has no other commercially viable options to date.

Low application rate of 0.5-10.0 gal/acre (4.67-93 L/Ha) showing ~ 96-99% control.

Additional trials plan to determine rate needed for 100% eradication and in field rate titrations. 
Economic benefits to Canada
CAD $26.7 billion of economic activity/year and 250,000 Canadian jobs.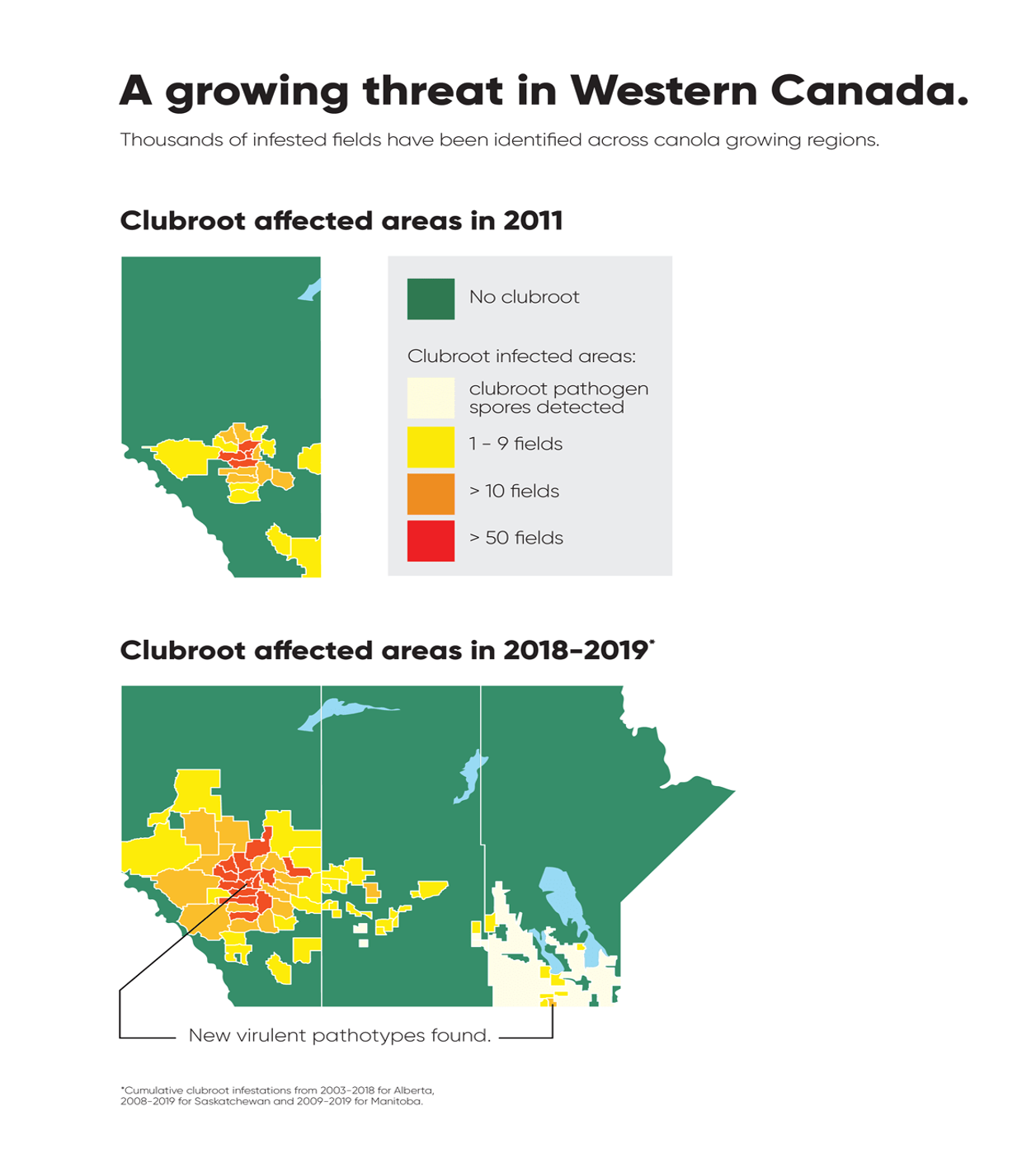 Crops
Oilseeds – Canola and Oilseed Rape

Fruit and Vegetables

Root and Tuber
Disease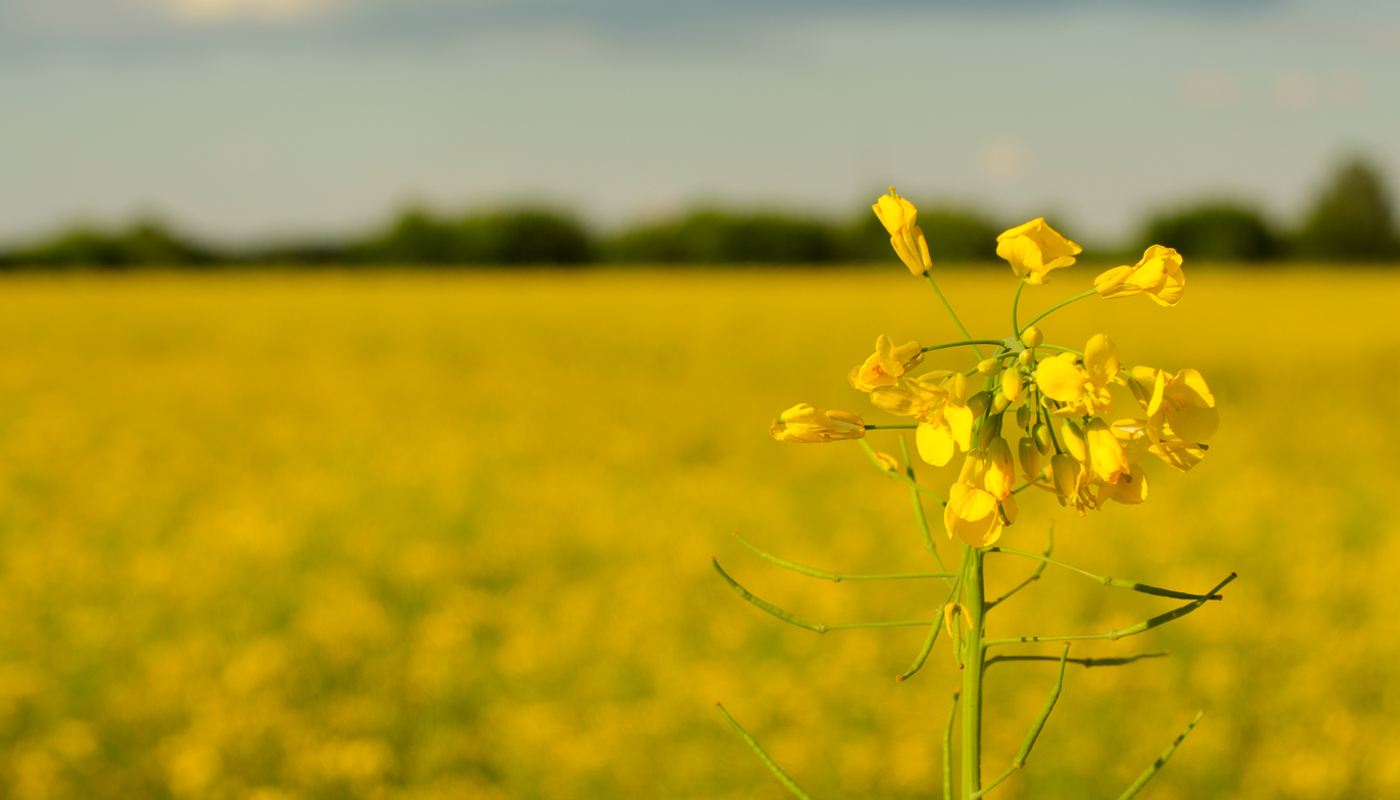 Key De-Risking Catalysts
Validate spectrum of efficacy and control in field trials with potential partners and key researchers.

IPM integrations: combination with different seed genetics, traits and potential chemicals.

Work on Emergency Use application with Provincial and Federal organizations.
Aphanomyces is a water mould pathogen responsible for root-rot disease, infecting a variety of peas, lentils and other legumes collectively referred to as pulse crops.  The disease causes severe root damage and wilting, with yield losses ranging from 10% to 100% in infected fields. Industry experts conservatively estimate C$20 million in annual pulse crop losses in Canada and C$100 million globally caused by Aphanomyces.  Current treatment measures cannot control Aphanomyces – they are only able to slow down the spread and reduce the incidence and severity of the disease.
MustGrow has achieved 100% control of root-rot disease aphanomyces within 24 hours in laboratory testing and is now advancing to large scale field trials.  
Aphanomyces – Pulse Crops
MustGrow's preplant soil biofumigant may have control of Aphanomyces Root Rot, which has no other commercially viable options to date.

Aphanomyces is a soil-borne root-rot disease that destroys peas, lentils, and legume crops.

Lab tests completed in winter of 2020 that confirmed 100% control at economic rates within 24 hours.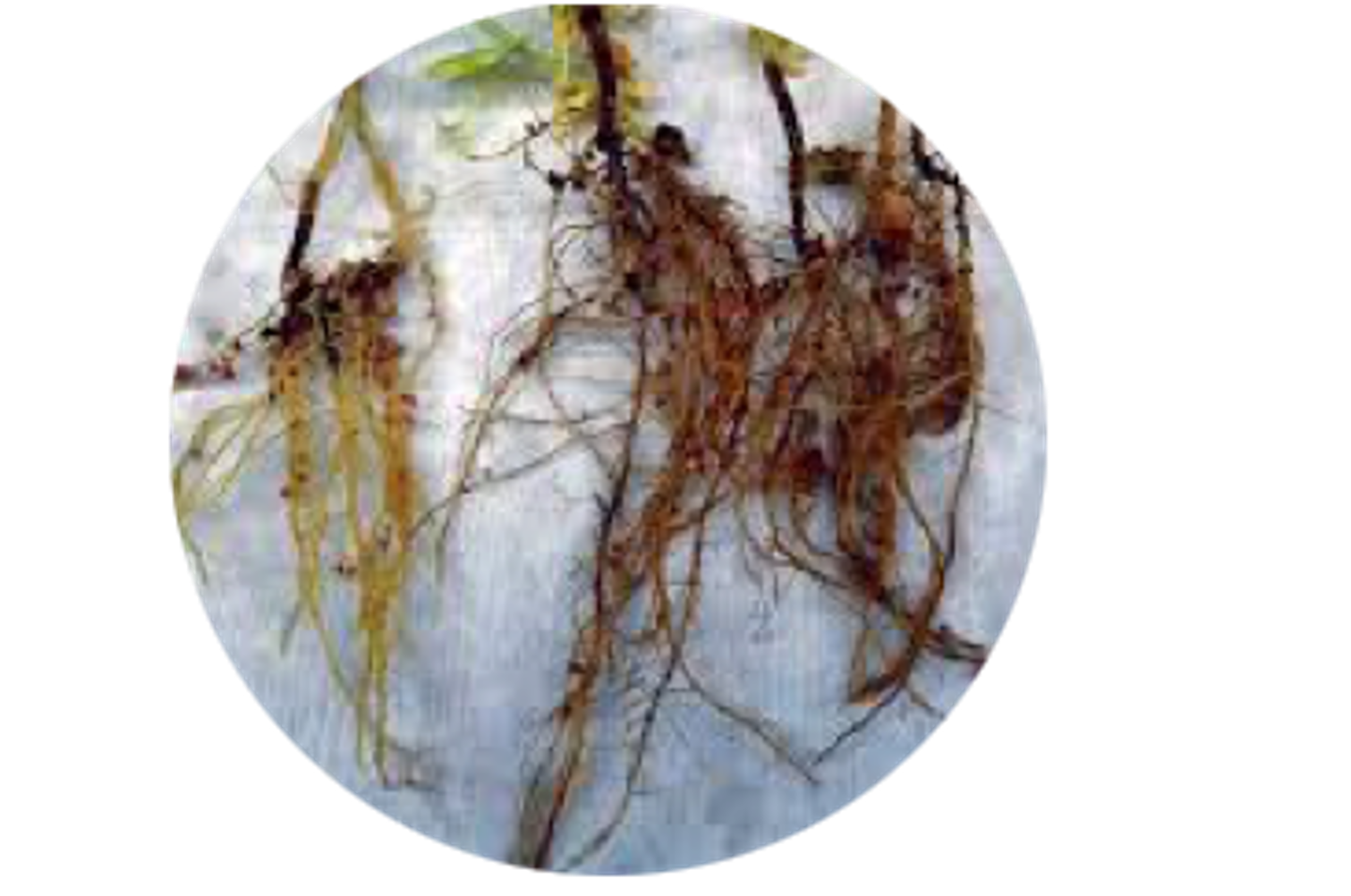 Disease
Demonstrated high levels of control of other disease species in tests and literature.
Chemical Standards
Ethaboxam (only registered for suppression of early season root rot).
Market
Current region scope of disease is Canada, USA, Europe and Asia.

Up to a 70% yield loss compared to non infected plants

Once infected, cannot grow pulse crops for up to 10 years, reducing the economic benefit for those growers.

~12 million tons of peas and ~6 million tons of lentils globally.

~US$40 billion of value annually.
Source: Saskatchewan Pulse growers Association and FAO
Key De-Risking Catalysts
Validate spectrum of efficacy and control in greenhouse and then field trials.

IPM integrations: combination with different seed genetics, traits and potential chemicals.

Develop strategic partnership with key Development and Commercial partner.