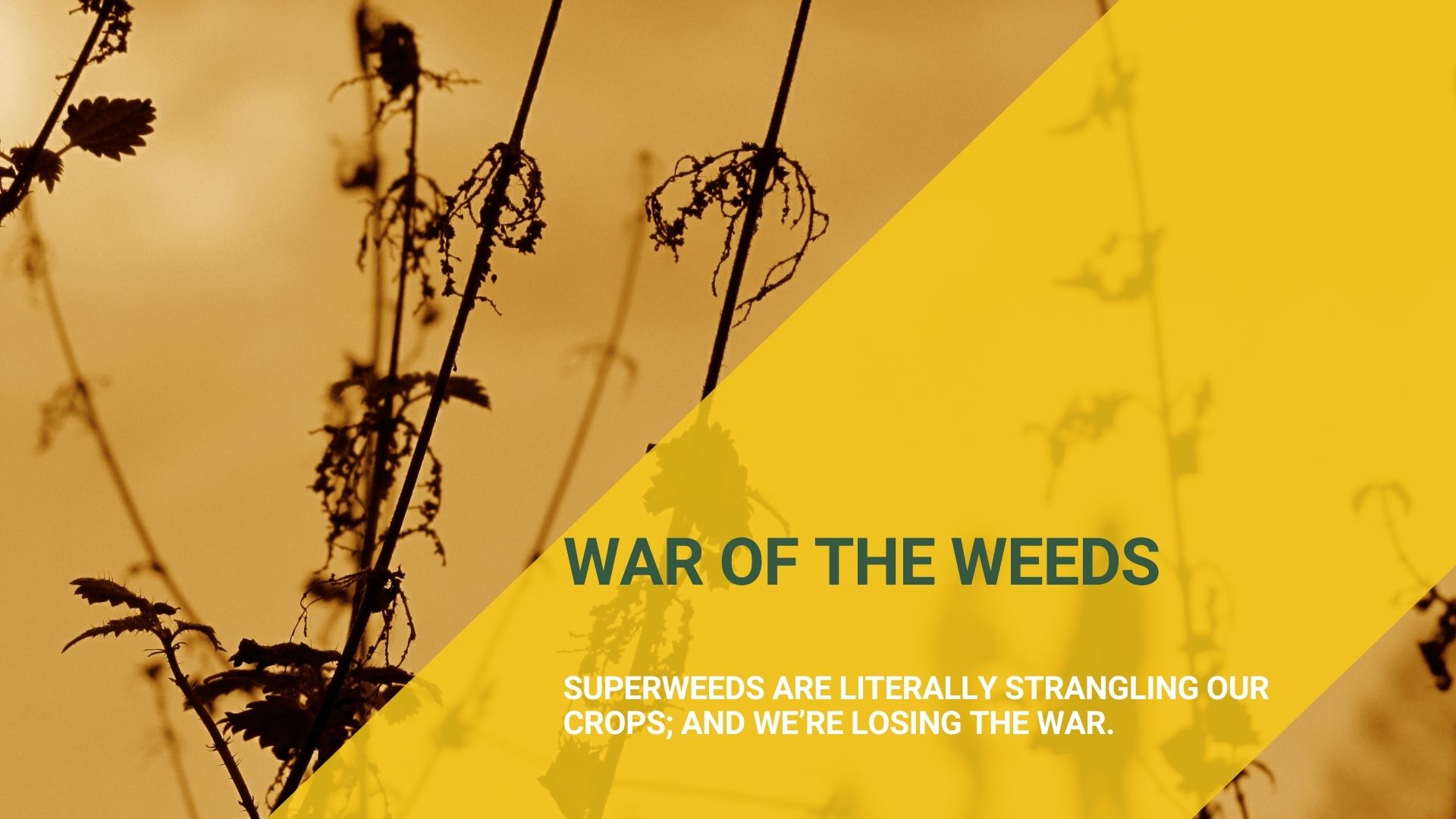 WAR OF THE WEEDS
Superweeds are literally strangling our crops; and we're losing the war.
WILL WE STARVE?
Superweeds are choking our crops.  What if we can't kill them?… 
Widely used herbicide chemicals including glyphosate and dicamba have protected our crops from weeds for decades.  These chemicals have traditionally worked well when paired with genetically modified crops that do not die even when showered with chemical herbicides.  So what's the problem?… Superweeds are becoming increasingly difficult to kill as the same herbicides are sprayed year after year.  Weeds have mutated to survive – always adapting to whatever's trying to kill them.  Simply, only the newly-mutated weeds survive, breeding the herbicide-resistant traits.  That's a big problem for farmers and our food supply.  The weeds are winning.1
"NO MORE"
Regulatory pressure to ban our most effective herbicides is heating up.  Globally, glyphosate is being phased out.  Farmers in Germany will have to gradually reduce their use of glyphosate and stop using it completely from 2024.  First developed by Monsanto under the Roundup brand, glyphosate has generated intense global debate over its safety since the World Health Organization concluded in 2015 that it probably causes cancer.  Mexico has also announced it would phase out glyphosate by 2024.  France has imposed restrictions on glyphosate in farming, but stopped short of a full ban because of a lack of non-chemical alternatives in some areas.
Last month, Roundup maker Bayer announced that they will no longer sell glyphosate-based herbicides for U.S. lawn and garden use by 2023, following their enormous $10.9 billion settlement on ~100,000 lawsuits claiming that its Roundup weedkiller caused cancer.
DOES MUSTGROW HAVE A SAFER ORGANIC WEEDKILLER?
We're working on it!  We have extracted different molecules within the mustard seed that have herbicidal properties… meaning we can potentially use our patented mustard seed-based technology to kill weeds, rather than spraying our crops and gardens with synthetic chemicals.  Our approach is natural and organic, simply utilizing the natural defense mechanism of the mustard seed.  We have succeeded in proof-of-concept studies demonstrating kill of small seeded weeds and weed seeds. 
We are building on those studies with an additional herbicidal mode-of-action now identified…
We have isolated and concentrated the mustard-derived extract, thiocyanate, which is responsible for the mustard plant's natural weedkiller properties.  Greenhouse weed treatment studies are underway with this new bioherbicide extract.
Our key is the systemic activity within thiocyanate, meaning the active ingredient moves from soil to roots, stem, then leaves.  We believe a tremendous opportunity exists to potentially replace or complement glyphosate in certain systems, by providing a natural organic solution.
Our recently announced development partnership with Japanese global trading behemoth Sumitomo Corporation (TYO: 8053) (OTC: SSUMY) includes an Exclusive Agreement to evaluate and develop our weedkiller product in the Americas, among other applications.  The agreement allows for Sumitomo Corporation to fund and drive all field development and regulatory work necessary for commercialization of our mustard-derived crop protection products. 
HOW BIG ARE WE TALKING?
According to industry intelligence groups IHS Markit and Phillips McDougall, the global herbicides market remained the dominant crop protection category in 2019, accounting for US$26.2 billion – 43.8% of crop protection sales.  Glyphosate, the most commonly-used herbicide, is forecasted to reach a global market size of US$13.3 billion by 2027, according to a report by Reports and Data.
We think our bioherbicide technology could have applicability in potentially four areas:
In jurisdictions where glyphosate has been banned.
In combination with glyphosate to use as a separate mode of action.
For home & garden use.
For organic acres, which currently have no herbicidal solutions, which means these acres are currently not included in the global herbicidal market.
Thank you for following our progress on what we believe to be a miraculous crop protection platform, simply harnessing what nature has provided: the mustard plant.